We use recycled fishing nets as the core to our products because of the associated benefits:
Long-lasting
Waterproof & Non-Stink
Lightweight & Durable
FROM POLLUTION TO PRODUCT
THE TANGLE LEAD
Everything that makes ghost nets so terrible is what makes our lead so great - durable, waterproof and practically indestructible. Each product features a padded cork handle, easy carry clip with a safe & secure fastening
X
1. RECYCLED FISHING NET
Each hand-crafted lead actively saves marine life by stopping fishing nets entering our ocean.
X
2. WATERPROOF & NON-STINK
Originally built for the stormy seas, smelly leads are a thing of the past.
X
3. PADDED CORK HANDLE
Soft & subtle on your hand. Bet you didn't know cork had a use outside of wine.
X
4. EASY CARRY CLIP
Hands free isn't just for driving. Walk freely with your lead over shoulder.
X
5. STRONG & CHEW-PROOF
Built to last in the ocean for decades, chewin' pups are no match.
X
6. Safe & secure fastening
Effortless attachment to harnesses and collars with a 150kg+ breakload.
BECOME A TANGLER
SHOP THE RANGE
Save the oceans with this green marble effect sustainable dog bowl. Made from recycled fishing nets, it's sure to take pride of place in any one of your rooms.

Lead by example (pun intended) and save the oceans with this sustainable dog lead. Made from recycled fishing nets, it's waterproof, non-stink, strong & durable.

(PRE-ORDER). The Tangle Throw Toy links the ocean with play time. Both strong & durable, lightweight & buoyant, this is built to last. (You guessed it, also made from recycled fishing nets).
The ghost net problem
It's Time to act
Ghost Nets are fishing nets that have been lost, abandoned or dumped in the ocean. 640,000 tonnes of the stuff are discarded every year, making up nearly half of the plastic in our oceans.
These nets carry on 'fishing' for decades to come, entangling and killing everything in their path - think trapped turtles, drowning dolphins & wounded whales.
We're here to stop these killer nets at source & save marine life. We can't sit back and watch. Take action into your own hands (or paws) with Tangle.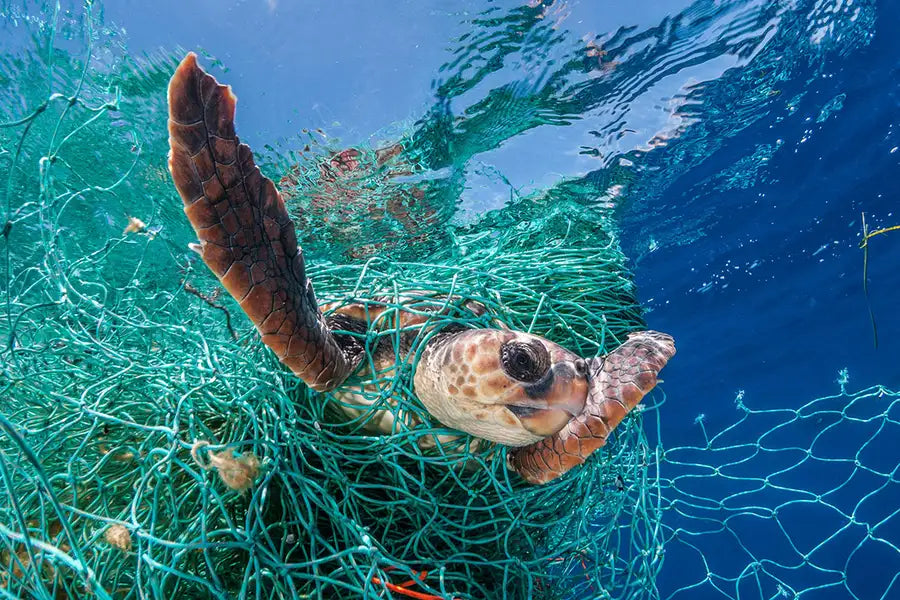 TIME FOR CHANGE
Our Process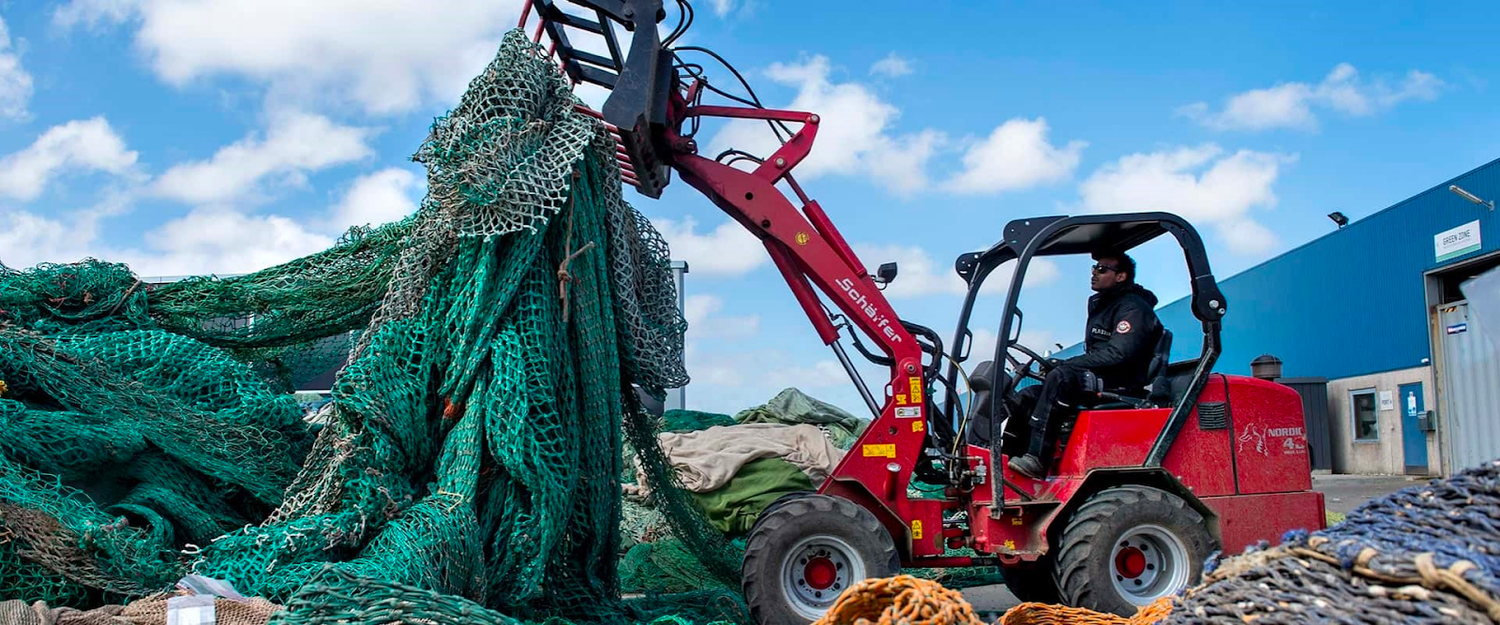 COLLECT
Fishers are incentivised to exchange their old nets through our partnerships at ports, which reduces the likelihood of dumping overboard out at sea. These end of life nets are sorted and collected before making their way to our selected recycling facility.

RECYCLE
Once these nets arrive, they're deconstructed and sorted into different types of plastics and colours. The material is then washed, shredded, and separated before being turned into 100% recycled green pellets ready to make new products.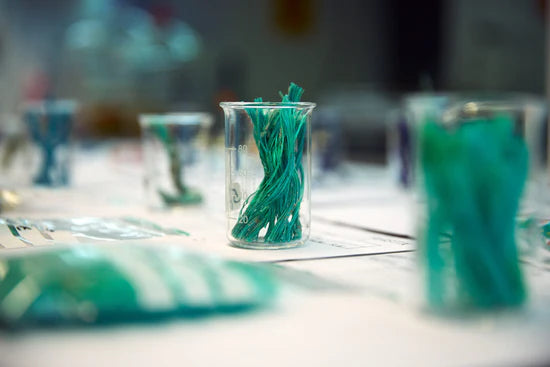 DESIGN
For too long sustainability has often meant compromise when it comes to practicality, longevity, and aesthetics. With Tangle, you don't need to compromise. All of our products are designed with the environment top of mind. And (if we can say so ourselves) look half decent too.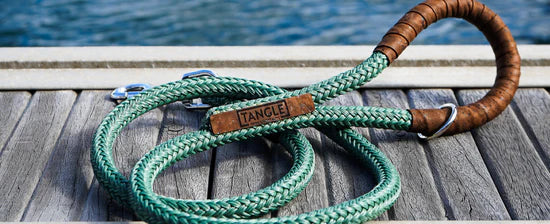 CREATE
At Tangle we produce the best sustainable dog products. We do this by putting quality and the environment first, with low-impact moulds and green energy used as much as possible. Every product differs slightly in colour & size due to our craft production process and the nets that go into them.
Got a question?
Dive in below
Why do you use fishing nets?

The more nets we use, the more marine life we save. The primary reason we chose to use fishing nets was to stop ghost nets entering our oceans - By recycling these end-of-life nets we actively prevent them entering the oceans and entangling and killing marine life.

Fishing nets also hold all the key attributes you're looking for in dream dog products: waterproof, & non-stink, strong & chew-proof, long-lasting and environmentally friendly... stroll in the park with pride.

Due to being made out of recycled fishing nets, our products have a 94% lower carbon footprint than virgin material alternatives. Engineered for the seas, now turned into premium dog products, I think we're onto something.
Where are the Tangle nets collected? 

A net-work of ports across Europe where local fishermen can exchange their end-of-life nets so they don't enter the ocean or go into landfill.
Are the Tangle products safe?

Yes. As dog owners our entire lives we only create products we're happy for our own pets to use.
Where can I buy?

At the moment our products are available online here, through our ecommerce store, Amazon as well as independent stores across the UK. Please contact us if you have a specific query or question, we'd love to hear from you. Email Hello@TangleMission.com
What are ghosts nets?

Ghost Nets are fishing nets that have been abandoned, lost or otherwise discarded in the ocean that entangle and kill marine life - representing nearly half the plastic in our oceans.
Why don't you use Ghost Nets already in the ocean?

By collecting nets at ports it means fishing nets don't even have a chance to become a ghost net.

We don't want to rely on more nets entering the ocean. We're solving this at source.

Imagine If a pipe burst in your home, you wouldn't simply mop up the puddle of water, you would look to turn off the source and fix the pipe, right?
OUR STORY
FEELING POWERLESS
"The greatest danger to our planet is the belief someone else will save it"
There's no special story behind the Tangle brand. We were just two guys feeling powerless seeing our oceans being wrecked right in front of our eyes. Think trapped turtles, drowning dolphins and wounded whales. We thought as individuals; what more could be done to rescue our oceans? 
At Tangle, we exist to inspire people to take action. We have one goal: stop ghost nets and spread the word.